The Conundrums of Giving by Ray Gowan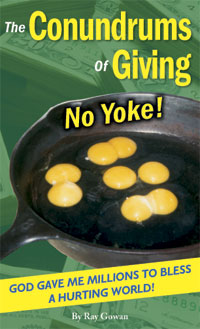 Description
Customer Reviews (0)
This little book deals with some of the CONUNDRUMS about GIVING. What is a Conundrum? A "conundrum" is a baffling statement or question, that is not easily understood, an enigma, a riddle, something mysterious, a statement that seems contradictory or absurd, but in reality expresses a possible truth. This book explains the following Scriptures that are conundrums to many: "Give, and it shall be given unto you" Luke 6:38; "Do not gather together riches on this earth" Matt. 6:19-21; "It is more blessed to give than to receive" Acts 20:35b; and "He who has pity on the poor lends to the Lord, and He will pay back what he has given!" Prov. 19:17.
From the printers: As the author was preparing the copy for this book, he told us that he had asked God to let him live long enough to get this book printed since he felt he had a very important message that people needed today. Ten days before submitting the final copy to be printed, the doctors told him he had cancer of the gallbladder and the liver. Mr. Ray Gowan was able to see the cover design but went to his heavenly home in June of 2006, just before his book went to press.
In the author's words: "Yes, you read it right! It is no joke! God did bless me and gave me millions to bless a bleeding, hurting world!!! Now, I know, that is nothing fantastic! Lots of people are millionaires these days, although they don't broadcast it to the world or to their relatives. They may not have it in the bank or stuffed in their mattress or ready cash buried in some secret place, but if they liquidated their assets. . . it would amount to a million dollars or more. To be filthy rich in these days, one would have to be a billionaire!
"I was pretty much a pauper from the beginning. Circumstances hindered my formal education. I only inherited $500 from family. But God's call was upon me, to do Christian service work; so by God's grace, I began my walk of faith at the youthful age of 17. I had little to offer God, except for my availability. He took it and that was the beginning of the millions He gave me to help others less fortunate. With God, there is nothing impossible! I am humbled at the thought of God taking this lump of clay and molding it into a usable vessel.
"I prefer to think of my state as having plenty. It was never my ambition to be rich! But God multiplied what little we gave. God blessed our minds and our hands by giving us much more than we ever dreamed possible. The difference between our holdings and that of the average elderly couple is, our possessions have very little liquidating value. Most of our investments are in church related projects that produce income, while we are living. At our decease, there will be precious little to probate, except our home and some savings. This type of investment relieves us from the management of such funds and guarantees a stated income for life. Plus it is building the kingdom of God in this world. Our treasure invested in God's kingdom will continue to work for the Lord a long time after our decease!
"Perhaps the greatest reason I don't feel guilty is the fact that God made it happen. I have sought to honor God and give to Him the credit because He worked the miracle. As long as I keep in harmony with my Heavenly Father and mind God in my giving, I'll not feel guilty. People who feel guilty are hoarders, the misers, the selfish. Too often people are shackled to their possessions. They seem to be afraid to turn loose of any of their monies or assets."
There are no reviews yet, submit yours in the box provided.
Submitting Your Review, Please Wait
Your Review Has Been Submitted Successfully
Add a review for The Conundrums of Giving by Ray Gowan
You must include a title, rating, and message in your review.
Your Review Title
Your Rating
Your Review