Patricia St. John Tells Her Own Story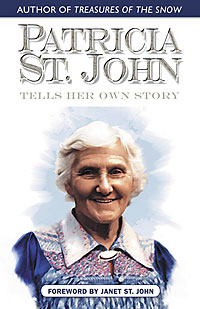 Description
Customer Reviews (1)
Anyone who has read Patricia St. John's books already knows how her stories come alive, and this account of her own life is no exception. Her powers of description make the story leap from the page and the reader is transported to far off places and times; and the people and the things she describes can almost be touched, smelled and seen.
Patricia was not just a gifted story-teller, though; she was also a deeply committed follower of the Lord Jesus Christ, whose spiritual journey began when she was only six years old. 'My name is Patricia,' she prayed, 'and if You are really calling me I want to come and be Yours.' Out of that small beginning there issued a river of life and light and blessing that went on increasing right up to the end of her life. Although she always thought of herself as 'an ordinary sort of girl', her life was extraordinary because of her supreme love for Jesus Christ.
The life portrayed here is not that of the self-conscious saint, concerned only with her own saintliness. On the contrary these pages offer us an inside view of someone utterly human, prone to mistakes and failures like the rest of us, yet suffused with the love of God and a contagious joy and peace that was like the bubbling up of a perpetual fountain.
During her lifetime Patricia St. John authored some 24 books. Two of these, The Tanglewoods' Secret and Treasures of the Snow have been continual best-sellers, having been reprinted more than 20 times, and both have been made into films. Her books have also been translated into 40 different languages.
'Quiet, unassuming, self-effacing, yet with a wonderful twinkle in her eye, Patricia was one of the greatest saints I have ever met. Instinctively, in her presence, you knew you were being given a fresh glimpse of the radiance, dignity and graciousness of Christ Himself, whom she loved so much.' --Michele Guinness, Writer and Broadcaster
'It has been a revelation to read of her involvement in the spread of the Gospel, all she has done through relief work with Global Care. . . and specially her courage when, as a young missionary, she went to live alone in a Muslim town.' --Phyllis Thompson, Author of Sadhu Sundar Singh
1 Reviews for Patricia St. John Tells Her Own Story
Fascinating! - Friday, August 15, 2008

Anonymous

I had known about Patricia St. John for years as the author of the beloved children's books Treasures of the Snow, Tanglewoods Secret, etc. This book is interesting because it tells how she went to the mission field and did many exciting things for God. If you like her other writings you won't want to miss this! -Edward
Submitting Your Review, Please Wait
Your Review Has Been Submitted Successfully
Add a review for Patricia St. John Tells Her Own Story
You must include a title, rating, and message in your review.
Your Review Title
Your Rating
Your Review