He Restores My Soul by Wes Humble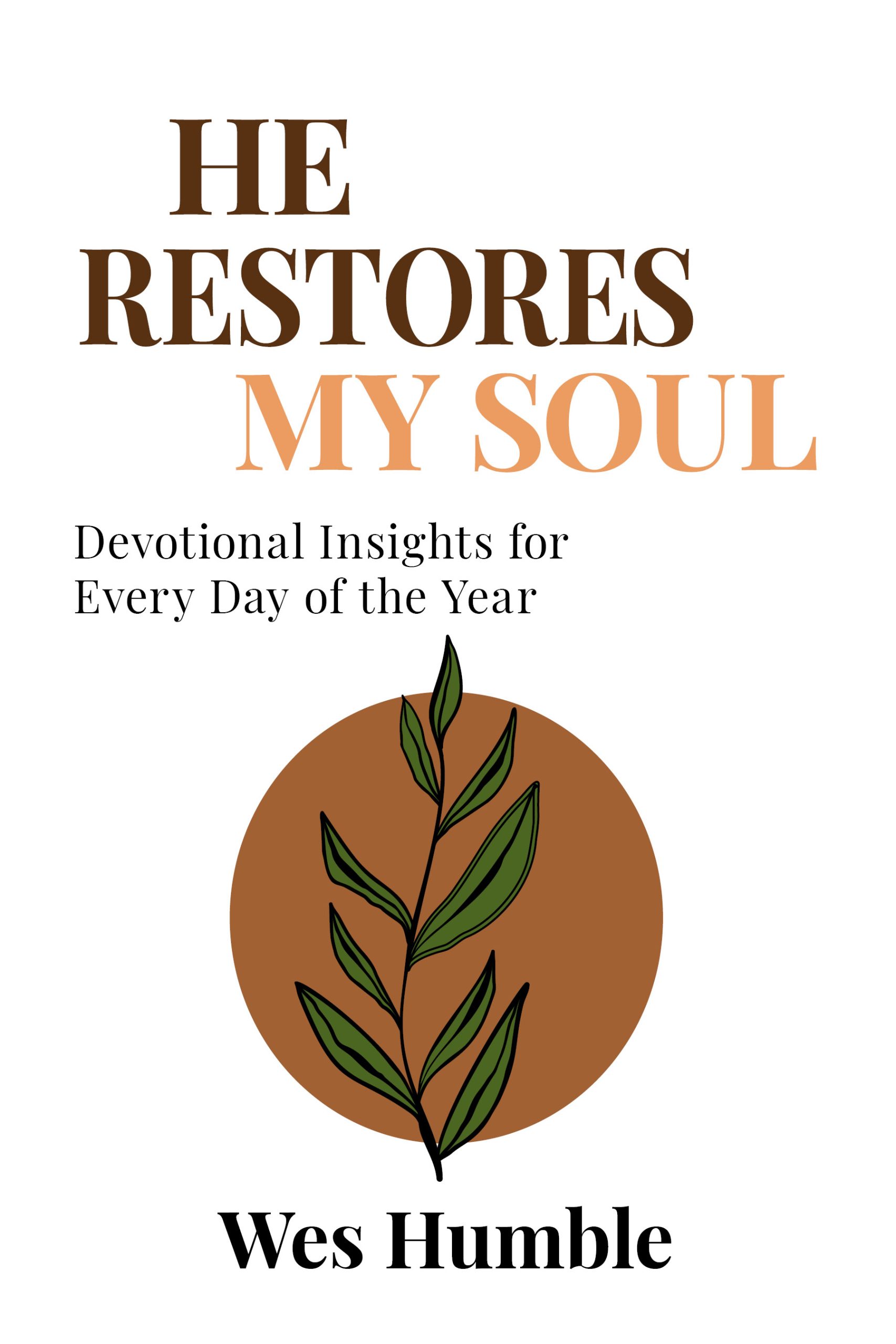 A one-time price of
$19.99
will be added to your order.
Description
Customer Reviews (0)
He Restores My Soul has been variously described as "a rare devotional," "a personal trainer for spiritual growth," and "a light for the journey" in the endorsements below. Wes Humble's book is all of that and more. If you're looking for a daily dose of spiritual uplift for the year ahead, you'll be hard pressed to find anything better.
He Restores My Soul is a rare devotional book that provides the reader with the keen insight of a careful expositor while presenting the truth with the warm heart of a pastor. This combination will challenge the mind and feed the soul.
– Michael Avery –
Chancellor, God's Bible School and College
General Chairman, Bible Methodist Connection of Churches
My lifelong friend Wes Humble has written a book that leads us to the feet of Jesus. This book is a reflection of the love he has for Jesus Christ and his passion for God's Word. Wes writes from a wealth of experience and from his pastor's heart. If you want to be challenged and encouraged to walk close to God this is the book for you. This is not a book to put on the bookshelf but one to keep close by for daily inspiration and strength.
– Dr. Mike Holbrook –
General Superintendent
The Churches of Christ in Christian Union
Think of this book as your personal trainer for growth in Christlikeness. You'll be continually directed toward a vibrant, living relationship with Jesus as the source for godly living and you'll be prodded and encouraged to stay focused on eternal values. Wes Humble's gifted pen and pastor's heart combine in these pages to produce a no-nonsense spiritual guide for every day of the year. As someone who has been reading, editing, and publishing Christ-centered literature for almost forty years, I have no hesitation in highly recommending this book!
– Edward Cook –
Layout Designer at Country Pines, Inc.
and Owner of KingsleyPress.com
Wes has an immense love and knowledge of Scripture. What inspires me most is his ability to reach people and weave that love and knowledge through story telling or current events, and make the Scriptures come alive in a way that I have never heard before. I have not only witnessed this with others but personally as well. Wes has had an everlasting impact on my life both as a minister and a friend.
– Steve LeMasters –
Retired Civilian Air Force Program Manager
Wes Humble has woven together pertinent passages of Scripture and daily words of comfort, invitation, and challenge to give the reader a light for the journey through the entire year. These readings are not aimed at the academic but at the common seeker and follower of Jesus Christ. The vernacular language of the insights and prayers invites us into a place of comfort and familiarity, where we can find food for our soul. Flowing from the heart of a loving pastor and wise teacher, these entries will encourage many toward a deep fellowship with the One Who guides us ever onward.
– Russ Clark –
Retired United Methodist Pastor
He Restores My Soul is an awesome devotional from God's man who is gifted with insight about the church and the days we live in.
– John Moffatt –
Senior Pastor, Springs Valley Wesleyan Church
We worship and serve a Living God and are blessed by His Living Word. Truly, there is life in following God and living by His Word.
I am thankful for Pastor Wes Humble and his insightful devotions. It has been a pleasure and a privilege to regularly receive his
well-prepared devotions. Many of his daily writings reveal insights and allow you to first dip your toe in the surface and then become immersed in the depth and breadth of the wisdom found in God's Word. I heartily endorse Wes Humble's devotional, He Restores My Soul.
– Steven L. Yashnik –
Attorney
"How often we need reminding that God is always there on our best and worst days. It's up to us to be still and know. Through this devotional you'll be encouraged about the journey that God has set before you and how He's there to help guide you every step of the way."
– Darin and Brooke Aldridge –
Award-winning Americana/Country/Bluegrass duo that has toured the world & plays regularly on the Grand Ole Opry

Try to read just one per day, if you can! I believe you will be drawn to read ahead. These messages speak to the real challenges, the real monotony and the real gladness that make up our everyday existences. . . so be encouraged by reading them every day to see that he is with us every step of our ways.
– Jennifer Smith –
Computer Programming Teacher, Girard High School,
Girard, Ohio
Kairos Prison Ministry Volunteer
I have known Wes since he was a young man serving the Lord as a teenager. I watched him grow up spiritually and physically from a boy to a man. He later became my pastor. He is a great communicator. His devotionals are very inspiring and speak to the heart of our generation.
He encourages the readers to read the Word and to be honest before the Lord so that he can guide us through these troubled times in which we are living. I have personally been blessed and received encouragement and know that you will be too You will see his writings come from his heart for God and ministry and his desire to help people make it to heaven. You will not want to miss one of these devotionals. They will speak into your life.
– Leonard Kuhns –
Co-founder of Kuhns Bros. Sawmill and Log Homes
Wes is a Spirit-filled Christian leader and that comes through in these daily devotionals. Grounded in biblical foundation, inspired by the Word, these daily readings will provide guidance, inspiration, and hope in these challenging times for Christians.
– Judge Kelly Cottrill –
Common Pleas Court of Muskingum County Ohio
It is a gift from God to be able to connect with people as Wes does. His transparency, humor, and humility allow him to speak into others' lives. I have witnessed this many times in the 43 years I have known him. Most of all, God helps him to expound and explain truth from the Scriptures and make it understandable for everyday living.
– Verlyn Melhorn –
President, Kleen Mist Car Washes Inc.
As you read through this devotional book, He Restores My Soul, you will experience the outstanding communication skills of Wes Humble woven into each "thought of the day." He has a unique ability to take the Scripture and provide application and inspiration to help face the challenges of our Christian journey. As a life-long friend and ministry partner in various settings, it is my privilege to recommend this book to you!
– Don Gessner –
Gessner Ministries and Executive Pastor at Westside Church of the Nazarene in Indianapolis, Indiana
There are no reviews yet, submit yours in the box provided.
Submitting Your Review, Please Wait
Your Review Has Been Submitted Successfully
Add a review for He Restores My Soul by Wes Humble
You must include a title, rating, and message in your review.
Your Review Title
Your Rating
Your Review