He Gave His Life that We Might Live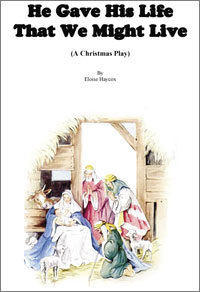 Description
Customer Reviews (2)
This story is about a very self-centered young man, Chris, who left his small home town to pursue his career as a doctor. However, he also left behind some of the real values of life. He left his high school sweetheart because his career was more important. He no longer had time for God and church. He refused to contact his father because of a misunderstanding during his mother's failing health - he felt his father was more interested in starting "the Study Hall project" than in spending time with his dying wife. After receiving an invitation for special Christmas events as the closing celebration of the 50th year anniversary of his boyhood church, his friend encouraged him to go back to his hometown in hopes that Chris would settle some of the things he was running from.
A Christmas Play by Eloise Haycox

NOTE: This is in downloadable PDF format - not a printed book.
When Chris got back to town, it seemed that everyone had something good to say about his father and how his father had made a difference for them. This made Chris have to rethink why his was so angry with his father. He finally met with his father and apologized for his long years of absence and for not giving his dad a chance to explain that the Study Hall project was started at the request and insistence of his mother. It had given her great pleasure to plan it, knowing that it would give his father, who was a retired school teacher, a reason to stay in contact with young people, and a way to help others instead of sitting at home mourning the loss of his wife.
Also, the story includes a little boy, Levi, who had lost his father in a car accident. Levi was a delicate child, tired easily, but the doctors said he was just depressed because of losing his father. However, Chris was able to recognize that Levi had a serious liver problem and would need a liver transplant to survive.
Levi had been inviting a little girl, Dawnetta, to children's services at their church. Her mother knew and allowed her to go, but her father was very abusive to both the mother and the child. In a drunken rage, the father came to the church and insisted that Dawnetta leave with him and on the way home he wrecked the car and Dawnetta was fatally injured. During her last words, she begged her father to learn about the love of God, a love that doesn't "hurt," because God gave His life that he might be saved. And then she asked if her liver could be used to save Levi's life.
Several hearts were touched and lives were committed to God's love due to the open trust and selfless love shown by Levi and Dawnetta and the other Christians involved.
The program ends with a plea to commit or re-commit your heart and life to Jesus, the Giver of Everlasting Life. He Gave His Life that we might live.
(Note: The part of Chris, the man doctor, could easily be characterized as Chris, the woman doctor, with very little editing. The main thing that would need to be changed would be the reference to a girlfriend, and his phone call to her - which could be easily changed to a boyfriend).
Sample Pages:
2 Reviews for He Gave His Life that We Might Live
He Gave his life that we might live.. - Friday, January 2, 2009

Anonymous

I want to say that I purchased this play and our church performed it. This drama truly showed the love of our Lord and what he done for us,and also that Christmas is all about him. There are not enough words to express all the blessings that we received while practicing and performing this drama. Thank you for sharing, may the Lord continue to bless your ministry.

He gave His life - Monday, October 27, 2008

Anonymous

I have read this play and I love it. I would like to use it for my sunday school this coming Christmas. -Esther S. Subris
Submitting Your Review, Please Wait
Your Review Has Been Submitted Successfully
Add a review for He Gave His Life that We Might Live
You must include a title, rating, and message in your review.
Your Review Title
Your Rating
Your Review