A Christmas Carol in Reverse by Amy Russell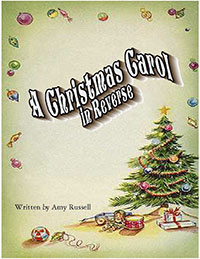 Description
Customer Reviews (4)
NOTE: This is in downloadable PDF format - not a printed book.
A Christmas Carol in Reverse is the story of Benny, a professing Christian man who has embraced the world's idea of Christmas as a time of food, festivities, and gifts, but has no thought for the true meaning of Christmas. Through dreams of a Christmas past, a present-day mission field and a visit to Hell, he comes to realize that "Christmas never should have been about all the gifts and festivities. Those are just a reminder of the gift Jesus already gave to us when He came to earth!" Benny's story encourages us to open our spiritual eyes to see what really matters in the light of eternity. This drama was written with the hopes of drawing souls to Christ and bringing glory to Him Who is worthy of ALL of our praise!
Cast: 4 Men, 3-4 Women, 1-2 Boys, 1 Girl
Time: Approximately 45 min - 1 hour
With E-Book, purchaser will download a PDF file using a link from the receipt page (or later from an emailed link if desired). Purchaser may make as many copies as needed for the production of the play. PDF file or copies may not be shared with other producers. Each producer is responsible to purchase their own PDF file or order copies for their production.
Download an Excerpt of A Christmas Carol in Reverse
4 Reviews for A Christmas Carol in Reverse by Amy Russell
Common Problem - Thursday, September 5, 2019

Anonymous

Our church did this program because I loved the lesson to be learned. So many name the name of Christ, but don't really know Him and the simple beauty of the Christmas story. I had a 9 year old girl show up the Wednesday night before Christmas, and she became upset with me as I taught that this was what Christmas was about. She believed it was like this story--just parties and presents and get-togethers. -Diane

Excellent - Wednesday, October 14, 2009

Anonymous

Excellent - Janie Jenkins

Consider this play for your school - Tuesday, July 7, 2009

Anonymous

This play is very good for students in Grades 1 through 8. I enjoyed reading the play and our faculty is considering using it. -Anonymous

Great play - Monday, January 1, 2001

Anonymous

We just did 'A Christmas Carol in Reverse' the Sunday before Christmas and it was a BIG hit. Most of the parts were small which allowed for a lot of first time participation, sets were simple and scene 6 done before the door to hell with dimmed lights rocked the house. Highly recommended! -jodi
Submitting Your Review, Please Wait
Your Review Has Been Submitted Successfully
Add a review for A Christmas Carol in Reverse by Amy Russell
You must include a title, rating, and message in your review.
Your Review Title
Your Rating
Your Review