Keepers of the Gifts by Tom Jahn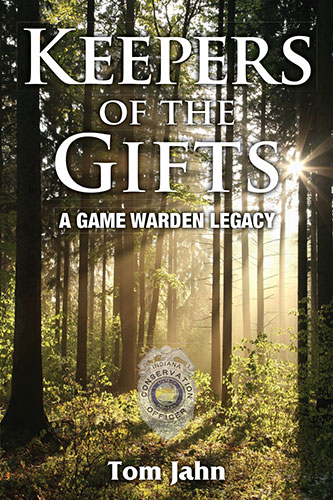 Description
Customer Reviews (2)
Tom Jahn was an Indiana Conservation Officer for over 36 years. He retired as F/Sgt. - Asst. District Commander, Indiana Department of Natural Resources, Law Enforcement Division. He was known throughout the State of Indiana as an inspiring leader who instilled in people the real meaning of "preserving our natural resources." His exciting career led him through the scenic hills of Indiana enforcing fish and game laws, to fighting wildfires in the Rocky Mountains of the West, to treacherous rescue and recovery missions, including assignments in states ravished by hurricanes and flooding. He and his wife Barbara live in Dubois County, Indiana.
Whether on a summer boat patrol or on a frigid winter stakeout, Tom Jahn's tales ring true to the profession of the Indiana Conservation Officer. As you read Tom's accounts, you'll feel as if you are riding along with him on patrol as he catches deer poachers, fish trappers, and fur thieves. It contains the accounts and the observations of one of Indiana's finest conservation officers of all time. Tom's career was chock-full of exciting and interesting cases, and he recalls many of them in these pages. This book is an excellent read and is a true case study of what it is to be an Indiana Conservation Officer.
~ LIEUTENANT TONY SANDERS, Indiana Conservation Ocer / District Commander, Indiana Department of Natural Resources, Law Enforcement Division
Several of us started our careers as Indiana Conservation Officers keeping notes and following Tom through the brush and along the waterways of Southern Indiana. Tom Jahn never lost track of the mission, to protect the resources and the citizens of Indiana. When working alongside Tom you knew you'd better pack your lunch because you weren't going home until the mission was accomplished.
~ COLONEL SCOTTY WILSON, Director Indiana Department of Natural Resources, Law Enforcement Division
It was an honor serving with officers like Tom Jahn who many will agree was the prototype of what we desire in our officers. Tom and his family embraced the lifestyle. The collection of stories in this book reflect the dedication he brought to work with him every day. I know you will enjoy this window into the world of the Indiana Conservation Officer.
~ MICHAEL CRIDER, Indiana State Senator (Retired Colonel and Director of Indiana Department of Natural Resources, Law Enforcement Division)
Tom Jahn is the characterization of leadership by example. The recounting of his experiences protecting our great natural resources is echoed with undertones of stewardship, compassion, dedication and integrity. Within these pages you will find opportunity to smile, reason to weep and a sense of the lifestyle that should be adopted by any person charged with "keeping the gifts." Luke 12:48 states that "To whom much is given, much is required; and to whom men entrust, much more is demanded." By action and example, Tom has executed this charge impeccably.
~ DREW DAILY, State Fire Supervisor, Indiana Division of Forestry, Fire Control Headquarters
2 Reviews for Keepers of the Gifts by Tom Jahn
A great read - Tuesday, December 26, 2017

Anonymous

Thanks Tom for your service and for sharing your story I loved reading Keeper of the Gifts. -Gus Blume

Keepers of the Gifts is an appropriate title - Saturday, August 23, 2014

Anonymous

Tom Jahn, along with my brother, Tony, and many others served District 7 for many years, and are now enjoying well-deserved retirement. Tom's stories of life as an Indiana Conservation Officer, as well as those he served on "Fire" assignments, all ring true, and are enjoyable reads. Thanks to Tom for recounting these "adventures". -Jeff Sanders
Submitting Your Review, Please Wait
Your Review Has Been Submitted Successfully
Add a review for Keepers of the Gifts by Tom Jahn
You must include a title, rating, and message in your review.
Your Review Title
Your Rating
Your Review