Butcher Ball: It's Not Just a Game by Jack Butcher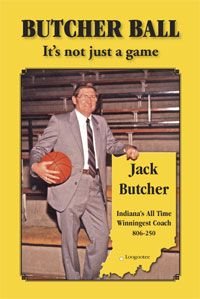 Description
Customer Reviews (0)
Paperback Only

Special internet discount: $2.00 off regular price!
This book tells the life story of Jack Butcher, a high school coach who became a legend while coaching basketball in the state where basketball is king, Indiana! It tells the story of his early life as his family struggled to survive the depression after the accidental death of his father when he was 3 months old. It includes growing up in a small town and how he was saved by basketball. It contains real life stories about officials, sports writers and other stories from the hard wood. It is a fascinating story about the struggle to be recognized and accepted as the all time winningest basketball coach in the state.
Chapters of great interest are: 1. Locker Room 101 contains stories about what went on during the practices and in the locker rooms during his 45-year record-setting career. 2. Stories from the Hardwood. These interesting stories will be of interest to all basketball fans. 3. Now I Report. This chapter reveals his interaction with the news media, including radio announcers. There are 22 chapters in all. 312 pages.
ISBN (paperback): 0-9759814-1-2
When I think of successful Indiana high school basketball coaches, the name of Jack Butcher certainly pops into my mind. With my father being from Washington, Indiana that is a big rival of Loogootee, I heard Jack Butcher stories at a very young age. Dad saw him play, then played against him as a player at Washington and then coached against him for four years in the blue chip conference. Listening to the stories about his success became a reality as I followed his Loogootee teams while I was a player at New Castle and then at Indiana University.
Coaches like Mr. Butcher leave a lasting effect on the lives of many young men that have the opportunity to play for him. He serves as a role model for all coaches, but especially those in the smaller schools. Coach Butcher is an individual that chose not to let his ego dictate over his heart. He chose to stay home in Loogootee for his entire life, which was the biggest catch in the life of this small southern Indiana community.
—Steve Alford, Head Basketball Coach, University of Iowa
As I travel throughout this great country of ours, I find myself sharing true stories about Jack Butcher and his Loogootee basketball team. There are only a few coaches whose teams I would pay to see. Jack Butcher's team is one of those.
—Tates Locke, Former Coach of Indiana State Sycamores
There is no better basketball story than that of Jack Butcher. He was, and is Loogootee Lions basketball. Truly, a perfect representative of "Hoosier Hysteria." His devotion to his school, community and state is almost unmatched.
I am positive his former players were in awe of Coach Butcher's talents, but equally awed were those of us who competed against his teams.
—Jerry Reynolds, Director of Player Personnel/TV Color Analyst, Basketball Operations
I was headed toward one of my favorite southern Indiana bird-hunting areas not long ago when I went through the little town of Loogootee and saw a city limits sign that I loved: WELCOME TO LOOGOOTEE, HOME OF JACK BUTCHER, INDIANA'S ALL-TIME WINNINGEST BASKETBALL COACH.
Jack Butcher was born and raised in Loogootee, a town of about 1,600 people. Jack played basketball there, went off to Memphis State where he was an outstanding player and All-Tournament on a team that just missed winning the 1957 NIT, then came straight back to Loogootee and took the job that he has stayed in ever since. At Loogootee High School, he has won more games than any coach in Indiana history, about 800. In that state, where high school basketball is so big, that is a remarkable and significant achievement'No. 1, all-time.
And I read where Jack said that when I left Indiana, "the state high school coaches lost a great friend." What a nice thing for a guy to say. What a nice thing from a guy whose opinion of me is a whole lot more important to me than all the guys who write about me and don't know me.
—Bob Knight, in the book "Knight: My Story" by Bob Hammel
Jack Butcher taught basketball the way it should be taught and no one ever did it better.
—Bob Knight
There are no reviews yet, submit yours in the box provided.
Submitting Your Review, Please Wait
Your Review Has Been Submitted Successfully
Add a review for Butcher Ball: It's Not Just a Game by Jack Butcher
You must include a title, rating, and message in your review.
Your Review Title
Your Rating
Your Review